About 3 months ago, we got the news that my wife's sister will be getting married in the USA, April 2017. So it got me thinking, what sporting events are on? The answer is Boston marathon!
I've been a long course triathlete for a few years now and never had a crack at a road marathon, but with Boston as a target I thought that was genuinely worth a crack. One of the biggest obstacles though was my wife was due to give birth to bub # 2 mid July, so there certainly wasn't any interstate racing. With a qualifying standard of 3:10 for Boston having to be met by mid September, I set my sights on the M7 marathon.
Coming from a triathlon background I really struggled trying to add mileage. After a PB @ bay 2 bay half of 91′ mid June, I was forced back to the trails for my long runs for two weeks with severe achilles pain. Although it didn't abate completely, I was able to go back to join the flyers long runs for the 3 weeks leading up to the race as well as their speed sessions at lunch on Thursdays. That gave me a lot of confidence going into the race, as previously my long run pace was 5:30/km, but with the Newcastle Flyers my long run pace had improved to 4:50/km. In the lead up to the race, my longest run was 31km and my best Park run 5km was 20:01.
So I new I was lacking top end speed, but I was backing on getting my big Diesel engine in gear and hopefully it would keep on rolling.
After our little girl was born 18th July, sleep and training has been limited leading into the event, but I still wanted to give it a crack.
The Race:
I met fellow Newcastle Flyer Kirsten Malloy and she was targeting the win, but I knew that would give me a smiling face to see at the turn around. I'd set my watch to auto lap for every 5km. Being an ex baseball player, I divided the 42.2k into 8 X 5k innings, then the 9th and final inning would be 2.2k.
It was magic weather and when the gun went off I just started running. I was pleasantly surprised to see a 3:00 pacer, but thought that was wishful thinking to stick with him so I just found my groove and tried to keep it rolling.
The course was 21.1km out and back so the plan was keep it conservative and ideally negatively split. The course however, was a lot lumpier than I thought and some of the hills really taxed the legs on the return leg.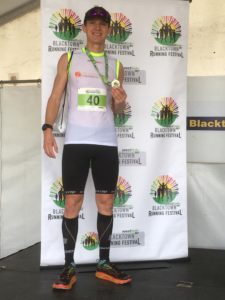 Luck would have it the Diesel engine just kept on ticking. The splits were: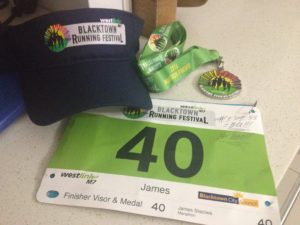 0-5km: 22:11
6-10km: 22:08
11-15km: 22:34
16-20km: 21:42
21-25km: 22:31
26-30km: 23:27
31-35km: 22:33
36-40km: 22:47
41-42.2km: 10:00
End result was a total time of 3:09:55 with an average of 4:30/km. This was exactly what I had hoped to achieve and like any runner, sure I would have loved to go quicker, but I got my Boston qualify time so I'm over the moon.
A massive thank you to Newcastle flyers for being so welcoming during the training sessions and especially to Kirsten Malloy on race day. I know this day would not have been possible at all without the support of my amazing wife that gave me the night off and took care of our two crazy kids. Likewise, I absolutely believe that my chiropractic care, massage and temple nutrition helped me break down my marathon juggernaut into bite sized chunks and in the end I was able to eat the elephant (one bite at a time).
Bring on Boston!!!!