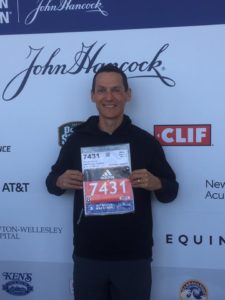 April 17th saw the 121st running of the Boston Marathon and luckily enough it was an event I was able to be a part of. A timeless race that draws over 30,000 people from all over the world. In the sport mad state of Boston, over 500,000 spectators line every inch of the 42.2 km course- at some points their cheering was enough to bring goosebumps (as well as some ringing in the ears).
Even though my race started at 10 am I was on a bus to the Hopkinton start line at 6:15 am, arriving around 7:30 I had plenty of time to lie around, eat some breakfast and soak up the atmosphere. Being in the first wave start with 7,700 of my closest friends was quite surreal. The American patriotism displayed during the national anthem followed by the fighter jets doing the official fly by for race start certainly got the blood flowing. 
The race starts with 5-10 km almost all downhill, so the goal here was conserve energy, dodge people and don't try to go all out. As always, a marathon is a long day and given the mid 20 degree temps at race start it was going to be a hot one too. 
The temperature meant I started taking on Gatorade much earlier than usual however, this could also have been in part to the quads starting to cramp early from the constant downhill running. I was feeling great and really trying to soak up the experience and the crowd, but there was one thing missing: my legs….
At halfway I was still very comfortable and at 1:35 I was feeling good and definitely thought a negative split was possible. However, when I went to unleash the throttle, I felt faster but the pace didn't change. With each change of incline I tried to pick it up, but my body would not respond. That negative split was wishful thinking, but each 5 km got progressively slower. 
I can say in the end ambition met reality. Training has not been my number one focus and it has been for headspace much more than breaking records. Admittedly I am still a little scarred as my last race left me in hospital. Reality is a great final arbiter and thankfully running Boston was the goal– the time it took me was just the icing. 
The support along the course was relentless and I know it helped me and thousands of other athletes push beyond their perceived limits. The dedication seen out on the course certainly inspired and provided inspiration with some athletes doing the whole marathon on crutches, others in wheelchairs and missing limbs. Additionally, I witnessed approx 30 people collapse or pass out just from giving it their all.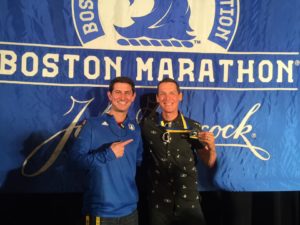 Rounding the final bend, the compassion and crowd support combined with my inner honey badger carried me to the finish line in a time of 3:25. I'm so thankful that I was able to be a part of the Boston Marathon as it will always be a part of me.