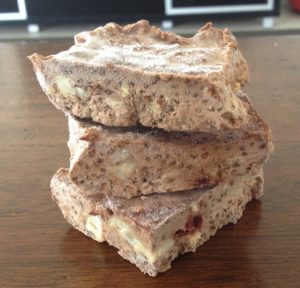 5 Simple Ingredients:
2 Tbsp Chia Seeds
1 cup Coconut Milk
3 Tbsp Cacao
2 Tbsp Dried Cranberries
1/3 cup Chopped Nuts
Directions:
Line 9×9 baking dish with baking paper. Mix Chia seeds with coconut milk (make sure to mix well!). Add cacao, cranberries and chopped nuts. Mix. Pour into pan and set in freezer for 2 hours. Cut into pieces of your liking and store in freezer. When in need of a chocolate treat- Eat and Enjoy!