Live Life Without Limits- Ultraman Australia 2018
Viktor Frankl said it best in Man's Search for Meaning, what we are looking for in life isn't necessarily happiness or possessions, it is meaning. It is to feel like you are contributing to a cause that to you is just, that to you matters. It's funny because we all know of friends that have left high paying jobs to go off and start their own small business; others who decide to leave their well-paying jobs and go back to University so they can effectively earn less money. Thankfully it isn't about the money or the wealth- it is about contributing and working in a career that provides and gives you a sense of meaning. The same can be said for athletes, constantly following the black lane in the pool or riding 100's of kilometres each week, to them it means something. It is their chase, their drive and their inspiration and for them it gives their life's meaning. Now here is the crazy part- just 'cause this career path, sport or lifestyle gives you meaning, doesn't mean it makes sense to everyone else….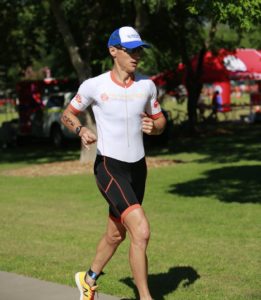 My Passions
For over 18 years now my passion has been to help people live life without limits, to remove needless pain and suffering through Chiropractic. My search for meaning put me through 6 years of study, leaving one office and establishing Transitions Chiropractic so that I could better serve you. Many of you know that over the past 9 years I found another passion- long distance triathlon. For me both of these interests completely relate as through my sport I feel as though I get a vehicle to inspire possibility to our awesome Newcastle Family. This has culminated in me tackling the 3 day Ultraman Australia 515km triathlon in May and in doing so raising funds and awareness for the Australian Spinal Research Foundation.
It's an insane 3 day endurance event based in Noosa that starts on May 12th with a 10km swim closely followed by a 145km bike ride (and that's day one). Then day two is a solid 275km on the bike (like driving from Newcastle to Kempsey) and finally day 3 is a 84.3 km run (a double marathon running almost the entire distance around lake Macquarie). This event started in Hawaii and this is now it's fourth year in Australia. It's been on my bucketlist for years now and this is my chance to tackle the beast. Over the past few years I've had a few different battles to fight whether it was stress fractures, severe anaemia or putting myself in hospital from a bike accident back in 2016. One of the things that allowed me to heal, recover and get back on the bike again was literally Chiropractic.
Chiropractic Helps Keep My Body In Balance
Chiropractic for me has been part of my health care regime since I started studying it way back in 2000. Through all of my different sports, Chiropractic has allowed me to keep my body in as much balance as possible which has minimised the stress and strain of the pounding nature of endurance sport. It's helped me recover from each and every injury and I think it has had a lot to do with allowing me to be consistent in training. Very little time off from injuries, a distinct lack of hamstring or calf tears is rare when riding sometimes up to 500km in a week or even running 80km a week. Another contributor to my resiliency in training and work I believe is thanks to my active immune system. In 12+ years as a Chiropractor I've had 2 "sick days" and there isn't many days I have to miss training due to illness or fatigue. Although hard to quantify, Chiropractic has been shown to decrease internal stress on the body which can then improve immune system functioning. This in turn improves the body's defences to bugs and bacteria that can otherwise cause colds, infections or lethargy slowing us down. It's for this reason that I've paired up with the Australian Spinal Research Foundation.
My Goal: $3 per Kilometre of Ultraman
Being a firm believer that actions speak louder than words (let alone struggling as a public speaker) I'm choosing to let my body do the talking. The Kangaroo and Emu are the only two animals in the world incapable of walking backwards, this May I'm choosing to mimic their ability by swimming, riding and running forwards towards the finish line of Ultraman. My goal is to raise $3 for every kilometre of Ultraman. That's a total of $1545.

Providing and Inspiring Possibility
Thankfully you don't have to stumble across the same answers that I have in your search for meaning. Helping people live life without limits while providing and inspiring possibility for my immediate and Newcastle family is what drives me. It's really interesting, since becoming a father I've been able to realise just how much we can provide and inspire possibility. After giving Cain his first bike without training wheels he looked up at me and said "oh dad, does that mean I can ride to work with you dad?" Little buddy I'll ride with you any day and any day I can inspire him to run, ride, climb or dive, I know will be awesome… On top of this it is the ASRF that drives the development and the understanding of Chiropractic and it's potential health care benefits.
So until May 12th, please feel free to donate via the Everyday Hero page or in the office with our donation box and any and all funds will be going straight toward the ASRF. Then come May 12th– 14th, prepare to watch this space as I tackle the beast that is Ultraman Australia!!!